i make pictures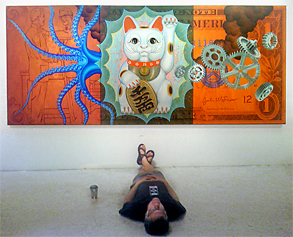 After a career in advertising that spanned nearly two decades, I moved to Denver with my wife Kae and began making art more-or-less full time.
If you're interested in knowing more about me, there are a couple of good interviews here:
The Nervous Breakdown, Spring, 2011
Platinum Cheese, Spring, 2011

To keep up with my latest art-related events and see new work as I complete it, hop over to Facebook and Like my artist page.
Mark Penner-Howell is represented in Colorado by
Walker Fine Art.
Contact me at


résumé
Professional experience
2004-Present, Artist/illustrator
2000-2004, Creative Director, Vice President, Tribal DDB, Chicago.
1997-2000, Associate Creative Director, DDB Digital, Chicago
Exhibitions
2017
Featured artist at Tectonic SHIFT | Dynamics of Change, McNichols Civic center, Denver, CO
New Work, Walker Fine Art, Denver, CO
Featured artist at Complementary,  Art Students League of Denver, Denver CO
2016
Featured artist at Opiates for the Masses, Helikon Gallery, Denver, CO
Featured artist at Art of the State, Arvada Center, Arvada, CO
New Work, Walker Fine Art, Denver, CO
2015
Featured artist at rePOPulated, Arvada Center, Arvada, CO
Recipient of OneWall Project mural prize, Denver, CO
New Work, Walker Fine Art, Denver, CO
2014
COLLECT: The Art of Colorado Individuals, Arvada Center, Arvada, CO
Double Rainbow Plans, Walker Fine Art, Denver, CO
Process to Consumption, Artist residency with Pangloss Gravitron at McNichols Civic center, Denver, CO
2013
Corpus Exuberis, Exhibited with Pangloss Gravitron at Emmanuel gallery, Denver, CO
Spring Preview, Walker Fine Art, Denver, CO
2012
Pangloss Gravitron, Vertigo Art Space, Denver, CO
Introductions, Walker Fine Art, Denver, CO
2011
Group Show at Walker Fine Art, Denver, CO
The New Normal, Space Gallery, Denver, CO
2010
MIX, Inaugural group exhibition, Center for Visual Art, Denver, CO
Second Degree of Separation, Group Show, Redline, Denver, CO
The Love Show, Featured Artist, Core New Art Space Gallery, Denver, CO
Artopia, Featured Artist, Denver, CO
2009
Best of Santa Fe Art District, 910 Arts Event Gallery, Denver, CO
Too Big to Fail, Solo show, CORE New Art Space, Denver, CO
The Denver Modernism Show, Denver, CO
2008
Destinesia, Solo show, CORE New Art Space, Denver, CO
Solo show at Icelantic Gallery, Denver, CO
Politics and War, Juried show at CORE New Art Space, Denver, CO
The Artists of 900 Santa Fe, Invitational group show at Center for the Arts Evergreen, Evergreen, CO
Polarities, Juried show at CORE New Art Space, Denver, CO
2007
Loud, Juried exhibit, Arts & Literature Lab, New Haven, CT
Resident artists show, TOSA, Denver, CO
The Red Show, Juried exhibition, CORE New Art Space Gallery, Denver, CO
2006
Resident artists show, TOSA, Denver, CO
New Talent, Space Gallery, Denver, CO
Group exhibit, RAW Art Guerilla Gallery Denver, CO
Related Experience

Master Class Workshop teacher, CAEA 2015 Fall conference, Breckenridge, CO
Featured artist, Painted Sky, 106 Artists of the Rocky Mountain West, Schiffer Publishing, 2015
Featured artist, WestWord Magazine, Artist's House Tours 2015
Cover art, The Normal School Literary Magazine, Volume 7, Issue 2
Cover art, The Normal School Literary Magazine, Volume 5, Issue 1